Newsletter no 1 - August 2020
Access Agriculture Panorama
No.1 - August 2020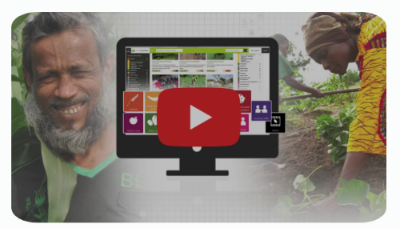 Welcome to our monthly news update with
'Access Agriculture Panorama'
This monthly e-newsletter gives a bird's eye view of all the exciting updates from Access Agriculture, a world-leading organisation for quality agricultural training videos in international and local languages, working across the Global South.
The Access Agriculture Panorama features information on new videos, audio podcasts, blog posts, articles contributed by experts, partner highlights, voices from the field and upcoming events.
We hope that you will find great value in its content and that it will inform and inspire you.
We look forward to receiving your feedback.
If at any time you wish to unsubscribe, please use the unsubscribe link at the bottom of the newsletter.
300 million Hindi speaking farmers
to benefit from new video platform
Access Agriculture is proud to announce the launch of the Hindi version of its video platform
www.accessagriculture.org/hi
, which offers a rich resource of multilingual training videos on agroecological principles and rural entrepreneurship for the Global South.
Read more
....
বাংলা
|
Français
|
हिंदी
|
Español
New videos in Fon and Wolof languages

New videos in Fon
: Sixteen of our videos are now available in
Fon language
and have been posted on our platform
www.accessagriculture.org
. They are freely downloadable as video (mp4), audio (mp3), mobile (video format 3gp) as well as one-page factsheets with contact details for more information. Among them you can find videos on:
Demi-lunes

Demi-lunes (semi-circular bunds) are earth embankments which capture runoff for improved yields.

SLM07 Demi-lunes

– English version

SLM07 Demi-lunes

– Wolof version
Burmese translations of videos available now
Agriculture is the source of livelihood for nearly 70 percent of the population of Myanmar. To strengthen communities and improve livelihoods in Myanmar, Helvetas, the Swiss development organisation, recently commissioned the translation into Burmese — the official language of Myanmar — of 30 farmer-to-farmer videos from Access Agriculture.
Read more
....
বাংলা
|
Français
|
हिंदी
|
Español
Cutting edge agroecology
Governments are often friendlier to corporate farming than to agroecology, so the Andhra Pradesh Community managed Natural Farming (AP-CNF), formerly known as AP ZBNF, programme in India is a breath of fresh air. As AP-CNF says on its website, the programme "is based on the latest scientific discoveries in Agriculture, and, at the same time it is rooted in Indian tradition." AP-CNF is striving to reach six million farmers.
Read more
....
বাংলা
|
Français
|
हिंदी
|
Español
Young entrepreneur brings smart farmer learning to Bihar, India
When 27-year old Neeraj Kumar heard about the Access Agriculture "Young Entrepreneur Challenge Fund 2019" announcement, he was excited to learn that winners would receive a Digisoft portable smart projector. Neeraj is co-founder of
Khetee
, an NGO based in Durdih village in Bihar, a state in eastern India.
Read more
....
বাংলা
|
Français
|
हिंदी
|
Español
Romuald Ulrich Assogba

Access Agriculture ambassadors are volunteers who promote the work Access Agriculture is doing in their respective countries.

Romuald Ulrich Assogba.holds a Master of Arts degree in Rural Economics and Extension and a Bachelor of Arts degree in Agricultural Extension and Advice from the Faculty of Agricultural Sciences at the University of Abomey-Calavi, Benin. He is currently working in the area of promotion of organic and ecological farming. Passionate about agricultural advice, more specifically organic farming, he is also responsible for the Monitoring and Consulting Agency in Organic and Ecological Agriculture (ASCABE) and is a founding member of the Benin Association of Agricultural Extension and Consulting Professionals (ABPVCA). By agreeing to be an Access Agriculture ambassador, Romuald wishes to promote agricultural training videos on organic and ecological farming to producers and agricultural extension services both nationally and internationally.